Hitler Hates Whores...
The great mass of people...will more easily fall victim to a big lie than to a small one.
-- Adolf Hitler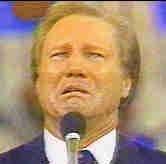 Jimmy Swaggart got that shit right. You hear me Jimmy. I know your shit, dawg. You my boy. We see that shit the same way. You can still abhore these beyotches and still wanna fuck'em. And Jesus ain't mad at cha'.
That's why he gave us Biggie and Tupac. I mean, why give two of the most ig'nant mothafuckas on this planet the talent to rap bullshit over another dude's music. Jesus put those dudes on this planet for a reason, gave them a voice, populated their following. And you wanna know why Christ did that shit? Because in the end, a beyotch is the first to love you, first to fuck you, and the first to leave you dry. And when you die, a beyotch is the only muthafucka that'll truly mourn your death. I hear you, Mary.
Nigga on the cross, bleeding and shit. He looks up to the sky and knows his ol' man ain't wit him no more. And he's looking around at his people, at his crew, and these beyotches either cowering in the corner like the filthy ass hoes they are, or they're joining in on the hate, spitting on a nigga, rocking a boulder to a brother's head.
And in that one moment, that's when he's looking around for somebody, anybody to be down with him. And he comes to the conclusion, the only beyotch looking to ride for him is that dirty ass ho' nobody showed any love to, except him. And that's when a brother knows, the only fucka that'll be there with him in the end is that ho' who ain't even higher than dirt, that ho' nobody gave a shit about, that ho' that nobody loves, except him.
And that's why I say Snoop got it wrong. He don't love no ho'. But I do. I got nothing but love for all you hoes, for all you filthy ass beyotches. And when I say beyotches, I mean
all
you beyotches. You know who you are.
Like Jimmy know, like Jesus know, in the end, all a man has is his ho' and his soul. And I ain't giving up either one for nobody.